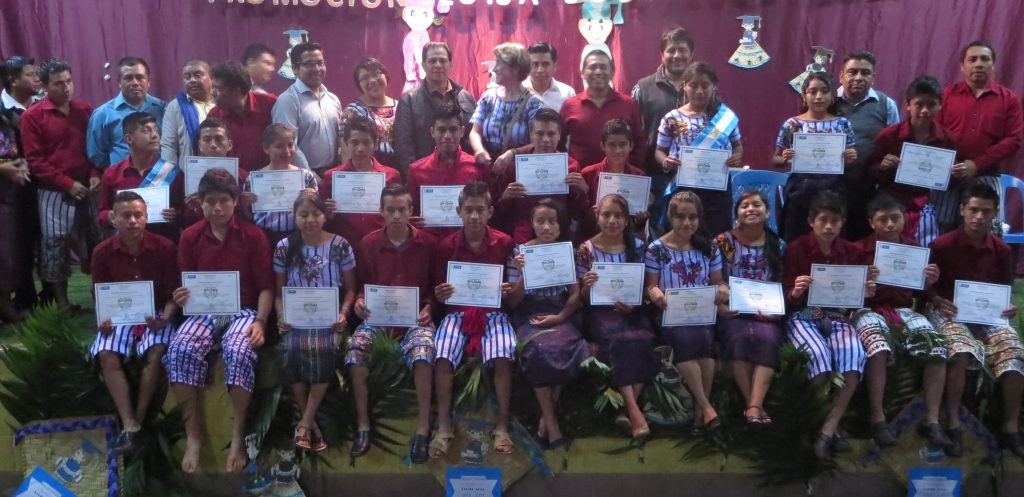 When a primary school student in Chuk Muk heads off to school they are probably ill-equiped and hungry. At home Tzutujil ( a Mayan dialect) is spoken but at school the student studies in Spanish. When the students return home with their homework there will be little help at home, as the vast majority of parents do not speak Spanish and can not read or write. As a result the students can fail a grade as they struggle to grasp not only a new language but letters and numbers. Often families are so poor that they have to choose which child gets to attend school. Very few children continue past grade 6 as the families need them to earn money to help support the family and school fees etc. are an added burden.
The primary school in Chuk Muk has motivated teachers who speak both Spanish and Tzutujil. The school offers a nutritious snack made possible by the kitchen equipment Aldea Maya installed in the school. This snack is often the only food a child will receive in a day.
In the 2012 Aldea Maya funded a new Basico (Middle School) in the village of Chukumuk. As a result 55 students continued studies instead of 2. In 2014, 23 students graduated grade 9. All 23 were fully sponsored.
When one realizes that about 1% graduate high school in Guatemala having 23 students graduate middle school is amazing…now they are off to high school. All 23 graduates are fully sponsored.
Graduated Students
HELP MAKE A DIFFERENCE AND STOP THE CIRCLE OF POVERTY
Sponsorship Provides:
Enrollment fee for Basico / Carrera / University

School uniform for Basico and Carrera

Backpack,

School supplies,

Sports shoes for elementary, Basico and High School. School shoes for university.

Srack suit,t-shirt and shorts for gym.

Traditional clothing for students in the Basico

Typing classes, first year Basico plus transportation costs, as typing is in Santiago Atitlan on Saturdays

Graduation costs.

If in Chuk Muk : free internet, photocopying and tutoring.
Sponsorship Fees for 2018
School

Grades

Scholarship Fee

Elementary

Kindergarten, 1st, 2nd, 3rd, 4th, 5th, 6th grades

$250 per yr

Basico

7th, 8th, 9th grades

$400 per yr

Carrera Support 

University

10th, 11th, 12th grades (also called Diversificado)

to supplement at expensive High Schools

$400 per yr

$600 per yr

$1600 per yr
There are over 100 students in the Chukumuk Basico. We are always needing more students to be sponsored. We have several students attending a high school that is more expensive and therefore require co sponsorship of $200/year. Contact us if you would like to help one of these students.
2018: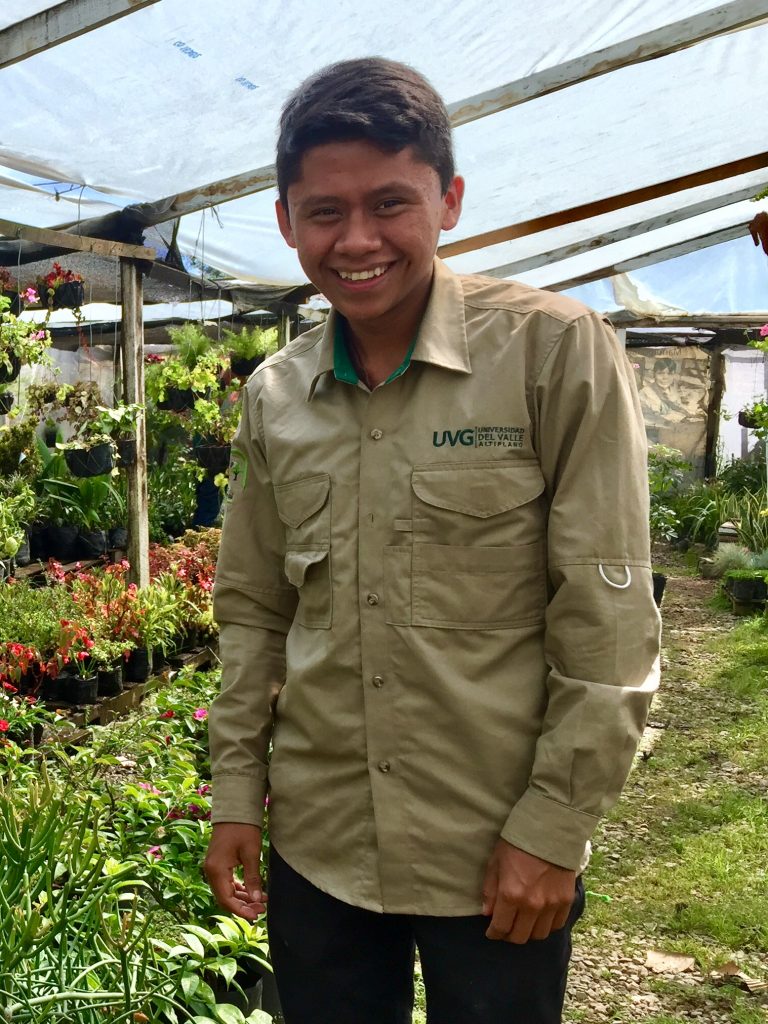 Francisco Q. S.
Francisco has finished his first year university studying agriculture, forestry and farm animals. This is a difficult course at one of the best universities in Guatemala. He is excited about the opportunity to improve the farming practices in Guatemala and especially in the Santiago Atitlan area.However this is an expensive university and we are trying to get his transportation costs covered. He takes a boat and then a bus to get at his university. Every trip is about an hour long, back and forth, three times a week.
Co-sponsorship C$400,00

Partial sponsorship C$100,00: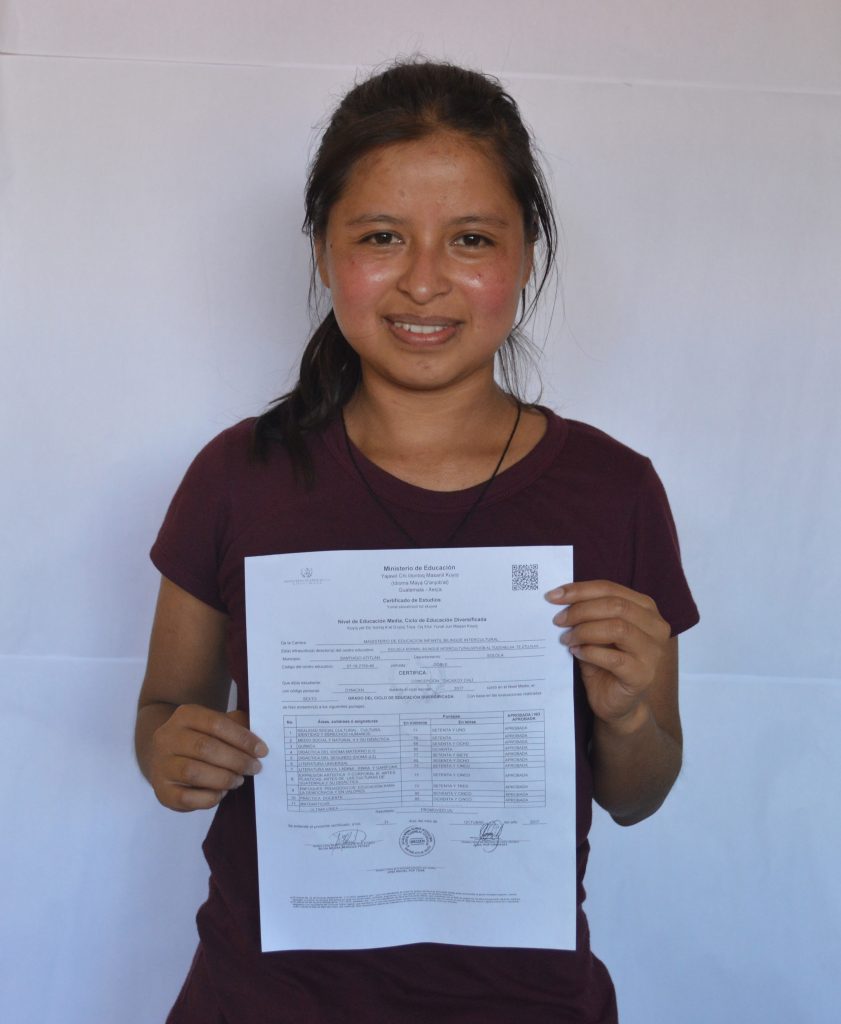 Concepcion T. C.
Concepcion has finished high school this year. She is willing to continue study Social Worker in university. This won't be possible without any support; her family is very poor and non of her graduated sisters, as elementary teachers, have a formal job with a good salary. Make a difference in her life by donating.
Co-sponsorship C$400,00

Partial sponsorship C$100,00: